Victims of modern slavery are hidden in plain sight in our cities and communities. According to global anti-trafficking charity, Hope for Justice, in 2019 10,627 potential victims were referred to the National Referral Mechanism* in the UK alone. Modern slavery in the UK is not uncommon and is sadly on the increase; 2019 figures show a 52% increase on 2018 and 27% of these victims were vulnerable British nationals, not immigrants.
Modern slavery poses a significant risk to the waste and recycling management industry where low paid and low skilled workers can be exploited when they may be employed in roles such as picking line operatives.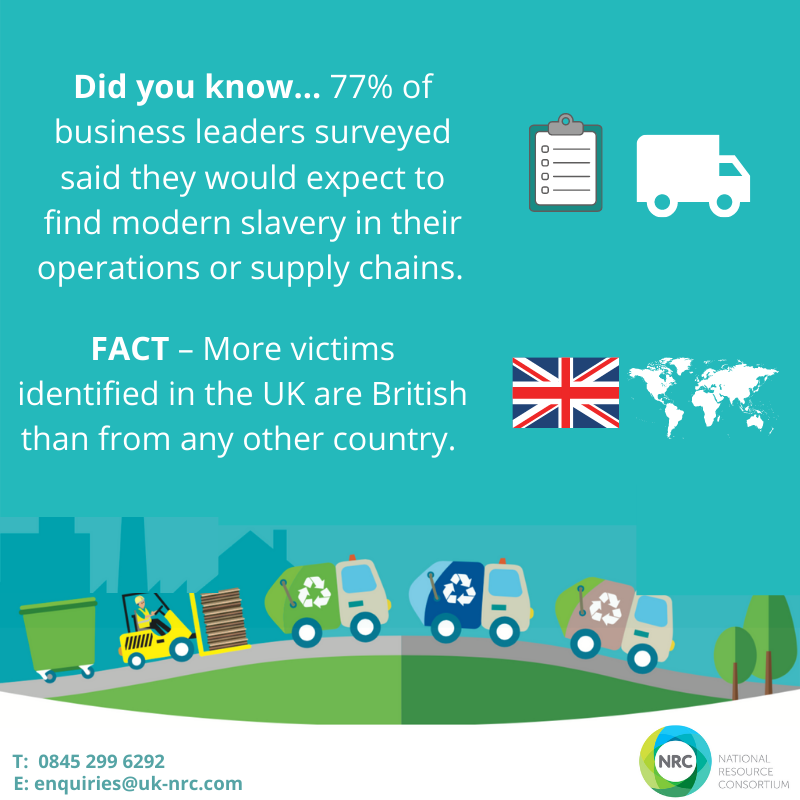 Last week NRC supported Anti-Slavery Week 12-18th October 2020, an awareness campaign run by Hope For Justice and culminating in Anti-Slavery Day on 18th October.  In doing so, NRC helped to raise awareness of this barbaric practice among some of the UK's leading independent waste and recycling management businesses that we work with.
Amid mounting pressure across all industry sectors, businesses must ensure that they don't support modern slavery practice. As awareness grows, more robust checks are being made in supply chain practices as well as there being increasing requirements to evidence the practices and measures that suppliers are putting in place to protect against modern-day slavery.
Last year NRC was invited to participate in a number of working groups including the Waste and Recycling Modern Slavery Working Group, which is comprised of representatives from, amongst others, SFA and ESA member companies. The Group's aim is to lead and implement industry-wide solutions for issues relating to modern slavery and labour exploitation in the waste and recycling sector. NRC represents the independent waste and recycling management sector on the Group, playing an important role, speaking for and on behalf of the independent operators we work with. We ensure that discussions are not focused on the larger operators with more resources to tackle this issue.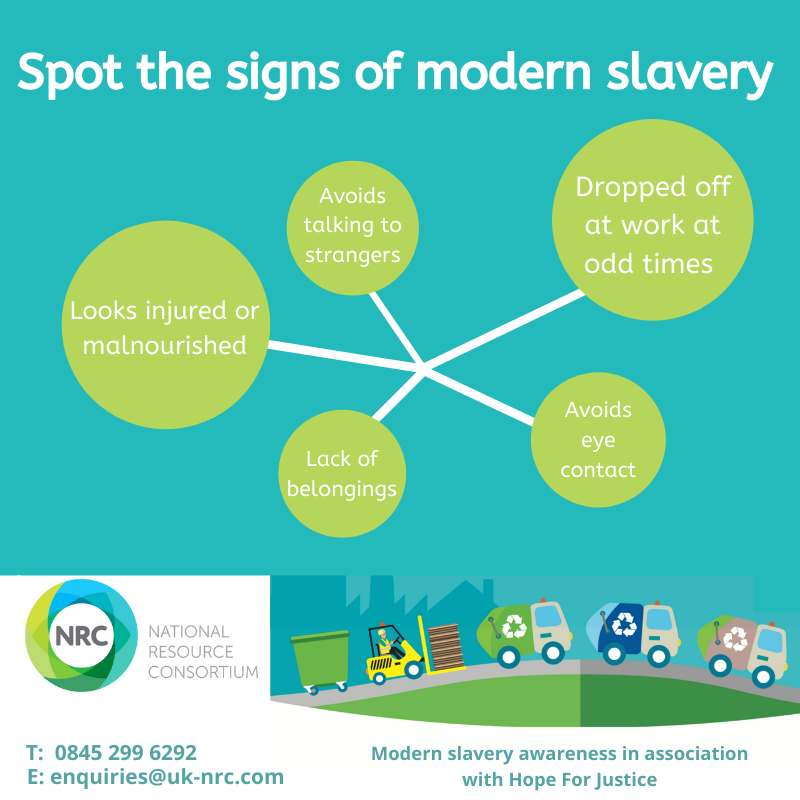 We are confident that NRC members and partners are well aware of the modern slavery issue and have robust processes in place to protect their businesses and employees. However, increasingly we are required to demonstrate the measures NRC has in place to track modern-day slavery among members and partners. To meet these requirements, we have developed NRC's Modern Slavery and Anti Trafficking Policy and anti-slavery measures are now part of the key compliance checks that we track in all our members and partners.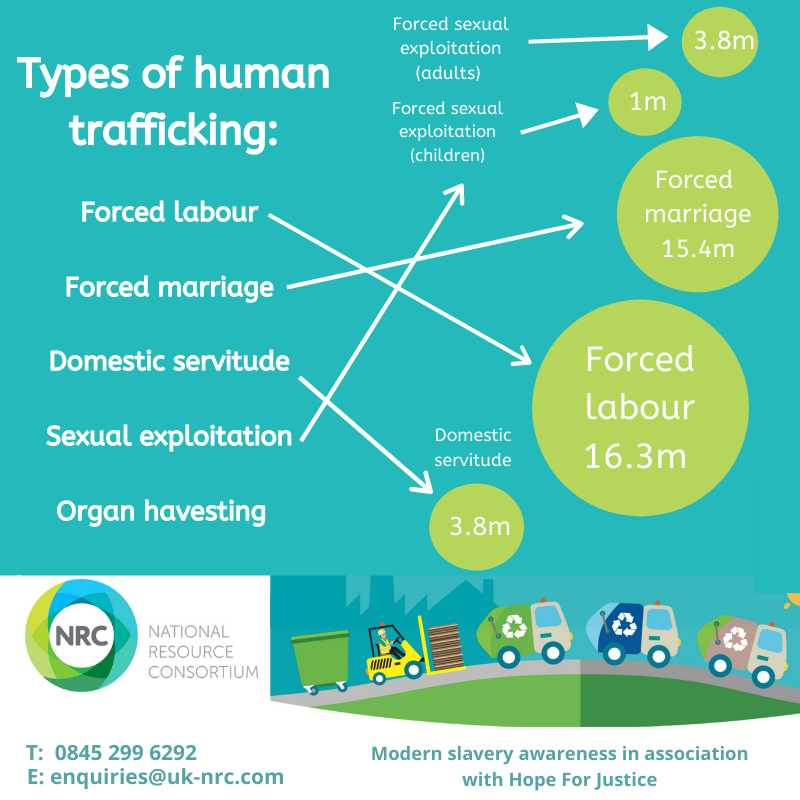 Currently, the law only requires companies with turnovers above £36 million per annum to have anti-slavery policies and statements in place.  However, NRC takes the view that all responsible and professional companies, of any size, should have policies in place to protect their employees from these terrible practices.
Over the last two years, this issue has gained momentum across our sector, but it is clear that there are many gaps where this practice can inadvertently take place. Along with our new policy, we have decided to become members of the Slave-Free Alliance. It is a simple way for employers to get the answers and support they need to combat this growing threat. All who are involved share a common goal: working towards a slave-free supply chain.
Much of the challenge is about raising awareness of the spread and severity of modern slavery and how to combat it. As a growing business playing an important role in the waste and recycling management industry, it is essential that we play our part by ensuring that all our members, partners and suppliers minimise the possibility of this practise taking place. We look forward to working further with Hope For Justice and Slave-Free Alliance.
To learn more about modern-day slavery, visit Hope For Justice. 
For more information about NRC's services and expertise, contact NRC on enquiries@uk-nrc.com or 0845 299 6292.