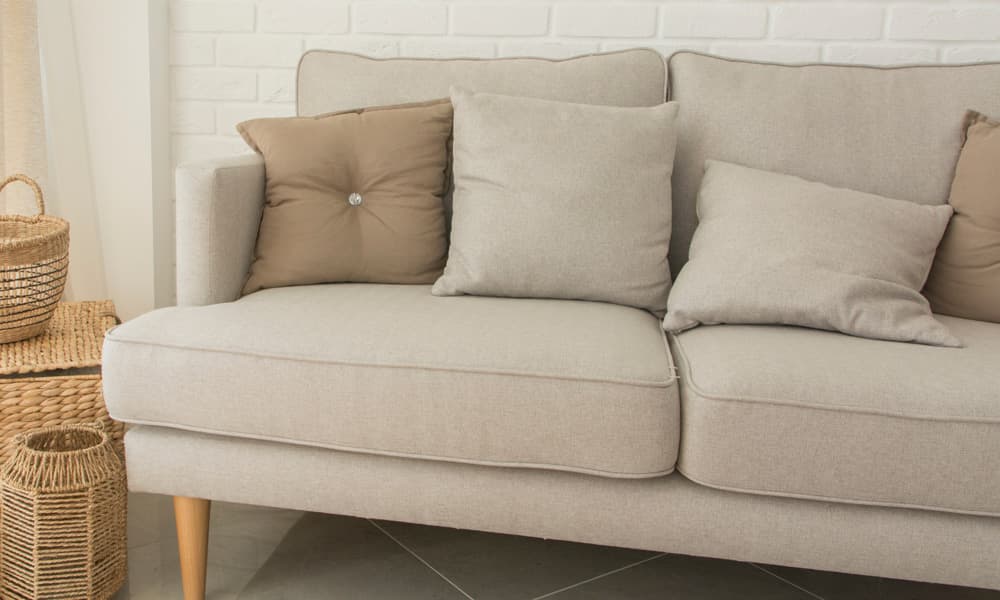 Waste Industry Expert, Paul Jackson, shares his predictions and advice
The Environment Agency recently announced that effective from 1st January 2023, it has now become a legal requirement for ALL upholstered domestic seating waste containing Persistent Organic Pollutants (POPs) to be incinerated and not landfilled.
Whilst charities may have already been notified about their new requirements to correctly identify and separate out this type of waste for collection, treatment and disposal, many will remain uninformed about the extent to which this new legislation could greatly impact their business operations. It is highly likely the disposal of upholstered seating furniture waste will become a much more complex and expensive service.
In this article, Paul Jackson, Director of national waste management company, National Resource Consortium (NRC), sheds light on the emerging issue, explaining how it could impact charity shops from January onwards and what solutions are currently available.
First of all, what are POPs?
POPs, sometimes known as "forever chemicals", are toxic chemicals which remain intact for long periods of time and bioaccumulate in our food chain. These chemicals have harmful effects on human health and the environment.
To prevent harm, the Environment Agency has warned that any waste upholstered seating containing POPs must be sent for incineration, and must not be landfilled, or mixed with other non-POPs-containing waste items or recycled. This will include items such as: chair cushions, sofas, sofa beds, office chairs, bean bags, upholstered foot stools, but not: mattresses, curtains, blinds, bedframes, deckchairs.
Whilst POPs may not be present in all upholstered furniture waste, the guidance is to assume ALL upholstered seating waste includes POPs, as the detection of POPs will require lab testing.
What effect will this have on charities?
As a waste producer, charities should now be aware that it is their responsibility to ensure that any domestic seating waste is stored, transported, treated, and disposed of correctly. This will include listing any items of 'domestic seating waste containing POPs' on waste transfer notes when sending for disposal. Failure to do so would be a breach of regulations and contravene an organisation's Duty of Care requirements, which could put charities in jeopardy of breaking the law.
Whilst this may already sound complicated enough, the process of what happens behind the scenes when a piece of upholstered seating waste leaves a charity shop to be processed for incineration, is also likely to impact charities more than they might think.
With all waste contractors currently understanding the guidance from the Environment Agency on exactly how POPs waste should be processed, there are, at present, many interpretations in the waste sector of what this means to their operation. This leaves room for each local contractor to deal with the waste as they see fit for their operation. We expect this late communication may generate a large level of inconsistency across the UK in January which will affect national charities with shops across the country.
As a consortium of independent waste operators, NRC is in continuous dialogue with its members andpartners regarding their plans for managing POPs waste. Following extensive discussion with members and 35 years' experience in the industry, it's my prediction that:
55% of disposal sites will introduce a new process to remain complaint with the new regulations. This could include setting up new storage areas to house segregated waste and/or updating all shredding operations. The downside of this is that charities will have to pay more for waste disposal to fund the set-up of new waste disposal processes.
20% of disposal sites will start to reject upholstered furniture. This will affect all disposal sites that are using landfill for their final disposal, or have such small volumes of domestic seating waste that it's not worth implementing changes. National charities with shops across the UK will be greatly impacted as a result as they will need to find new disposal sites to process their POPs waste, and in turn, pay more for the collection of its waste as it will need to travel longer distances to be processed.
20% of disposal sites increase prices – because they can.
5% of disposal sites will already have a current process which meets the new regulations. This means costs of disposal may stay the same for a small percentage of charity shop locations across the UK.
Whilst further dialogue from the Environment Agency may slightly alter the likelihood of the outcomes above, one thing which will not change is that POPs waste will now be sent to incineration, not landfill. This will mean outcomes 2 and 3 will stay the same, but 1 and 4 are likely to adjust accordingly to conform to the Environment Agency's new guidance of how exactly waste should be treated to meet the new regulations.
As all disposal sites will react slightly differently to the new legislation across the UK, one thing is certain and it's that most locations will experience cost increases for disposing of the same waste steam, and a few won't.
What solutions are currently available?
The good news is that there will always be a collection and disposal solution for domestic seating waste; it may just cost more. If costs rise to a level which charities are unable to afford the disposal of this waste stream, shops may have to consider not accepting upholstered seating furniture in certain locations where it is more expensive to process this waste stream.
How can NRC help?
At National Resource Consortium, we manage waste collection and disposal for a number of national charities across the UK, such as the British Heart Foundation. Drawing on the capability and expertise of its regional members, NRC mobilises a national network of waste partners to solve customers' problems, which includes this new, emerging issue of disposing POPs waste.
With the flexibility to meet local requirements, NRC is ideally positioned to advise the charity sector on the best waste management solution strategy nationwide, ultimately saving the sector time, money, and most importantly, keeping it compliant.
Working with NRC, charities can be assured of sound, trustworthy advice combined with a responsive, high-quality service delivered through a UK-wide network of leading waste management professionals.
Further information
For further information on POPs, we encourage you to get in contact with NRC via email on enquiries@uk-nrc.com or call 0845 299 6292.